Pure Delight - 100% Arabica with Cocoa, Oaky, Bitter Sweet

The Coffee Has A Smooth Body With Low Acidity And A Darker Roast  Level

Freshly Roasted On Order
100% Specialty Grade Arabica

Processing: Washed

Altitude: 1000-1500M | Location: Chikmangalur
Regular price
Rs 450.00
Sale price
Rs 425.00
Unit price
per
Sale
Sold out
Share
View full details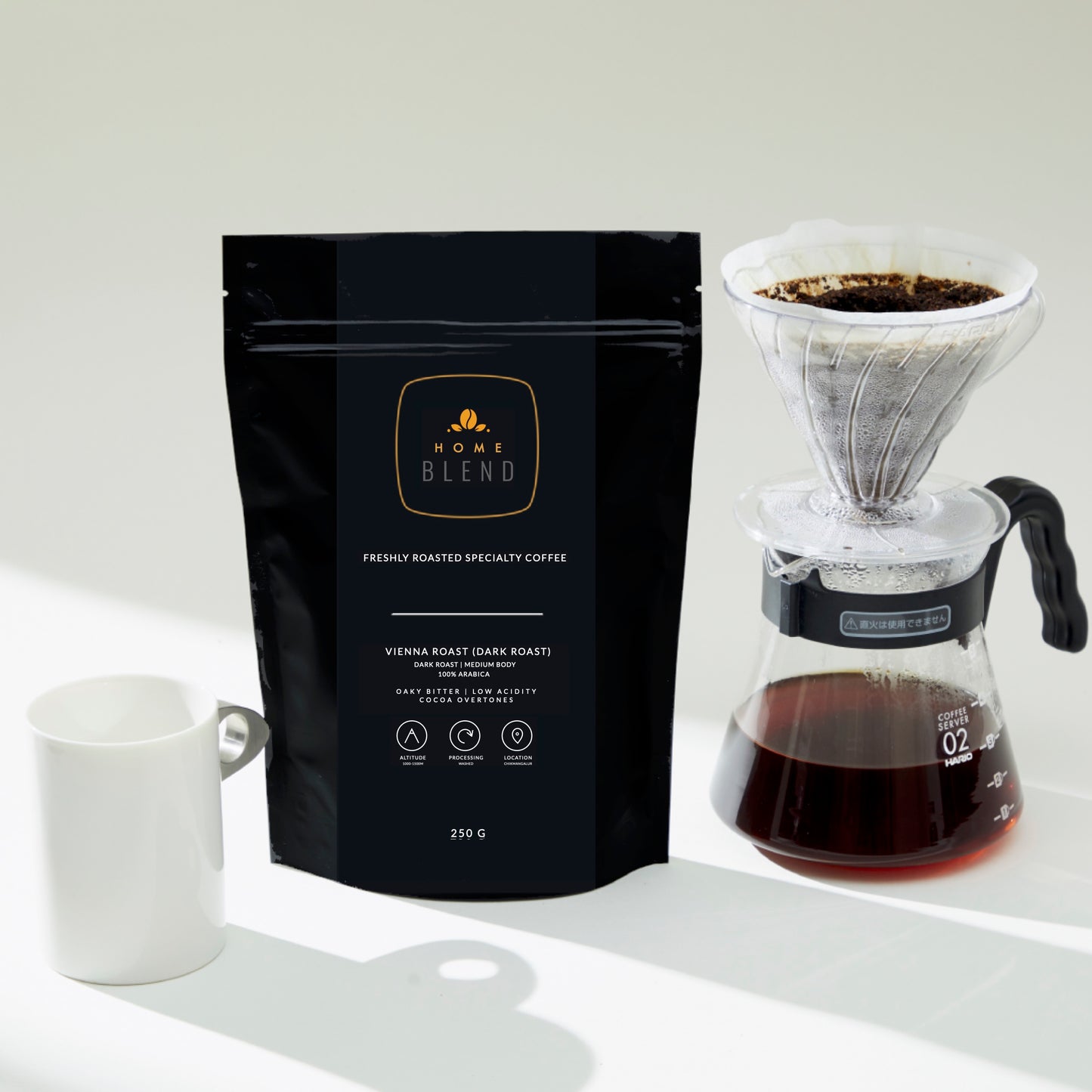 Vienna Roast
Viennese Roast is a medium dark roast that has the richness of Dark Roast without the carbon-smoky flavor. Named after the city of Vienna, Austria, where it was first developed, the bean will be dark brown and only slightly oily.
The Vienna roast coffee has a subtle dark chocolate flavour with a smoky aroma, great body, low acidity and is a favourite choice for coffee drinkers who enjoy a strong cup, with the characteristic bittersweet notes
Your Specialty Pick: Vienna Roast (Dark Roast)

Variant: Vienna Roast - Premium Grade 100% Arabica

Roast Level: Your Pick 

Grind Size: Whole Beans

Tasting Notes: Cocoa, Oaky, Bitter Sweet, Low Acidity and Cocoa Overtones.

Oaky and slightly bitter, this option is definitely for you If you like dark roasts or milk based coffee beverages
Discover Freshly Roasted World Specialty Coffee At Your Doorstep
Premium Specialty Green Beans

• Green Bean Processing & Curing at Established Mills that pay farmers a high premium for export grades, ensures and stamps all our Specialty Grade
• We use only the most premium, export quality AAA & Specialty Grade Arabica beans to roast our coffee fresh everyday!

Freshly Roasted


• All our coffee is Roasted Fresh at our roastery! 
• All our coffee Profiles are roasted on Software to ensure Consistency 
• Each Batch is Cupped before packaging 

Specialty Coffee Association Certified

• Home Blend Coffee Roasters is an Offshoot of the company's Coffee Curing Dry Mill in Indonesia

• We understand that Great Coffee requires Elaborate Equipment and Processing Methods to Grade, Size, Sort Defect-Free Specialty Coffee

• Before we Integrated Vertically, we got Certified in Green Bean, Roasting, Brewing, Barista & Sensory by Specialty Coffee Association (SCA)

• All our Roasters are Qualified and Certified by SCA