Experience the culmination of nature's perfection and human dedication in every sip of Bettadamalali coffee. Indulge in the richness of hand-picked, 100% shade grown coffee that delivers truly exceptional flavour

Tasting Notes: Jaggery, Dark Chocolate, Honey, Citrus Finish

Freshly Roasted On Order
Varietal: 100% Arabica, Sln. 795 | Grade: Screen 16+ 

Processing: Washed & Sun-Dried

Altitude: 1100-1350M | Location: Baba Budan Region, Western Ghats, Chikmagalur
Regular price
Rs 550.00
Sale price
Rs 475.00
Unit price
per
Sale
Sold out
Share
View full details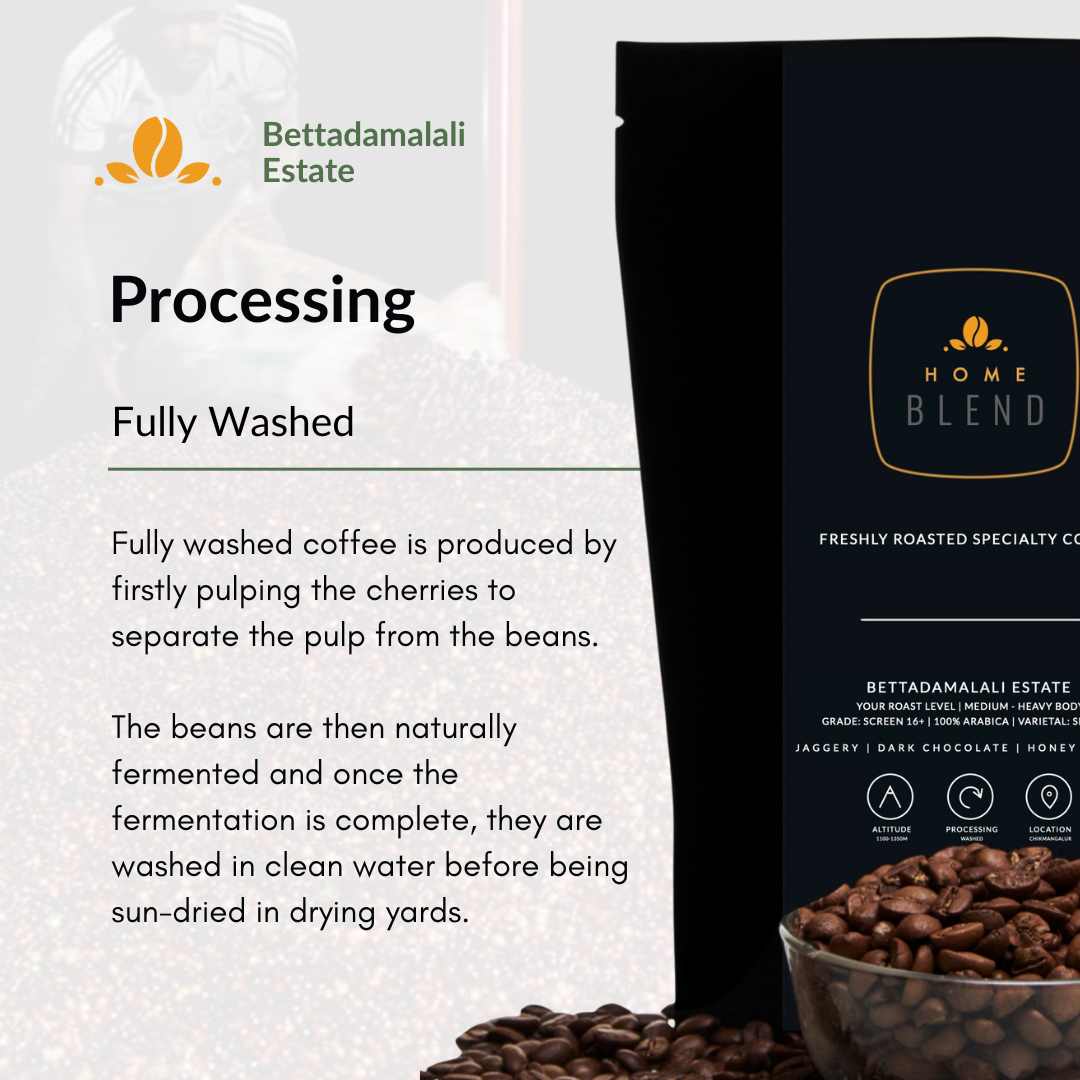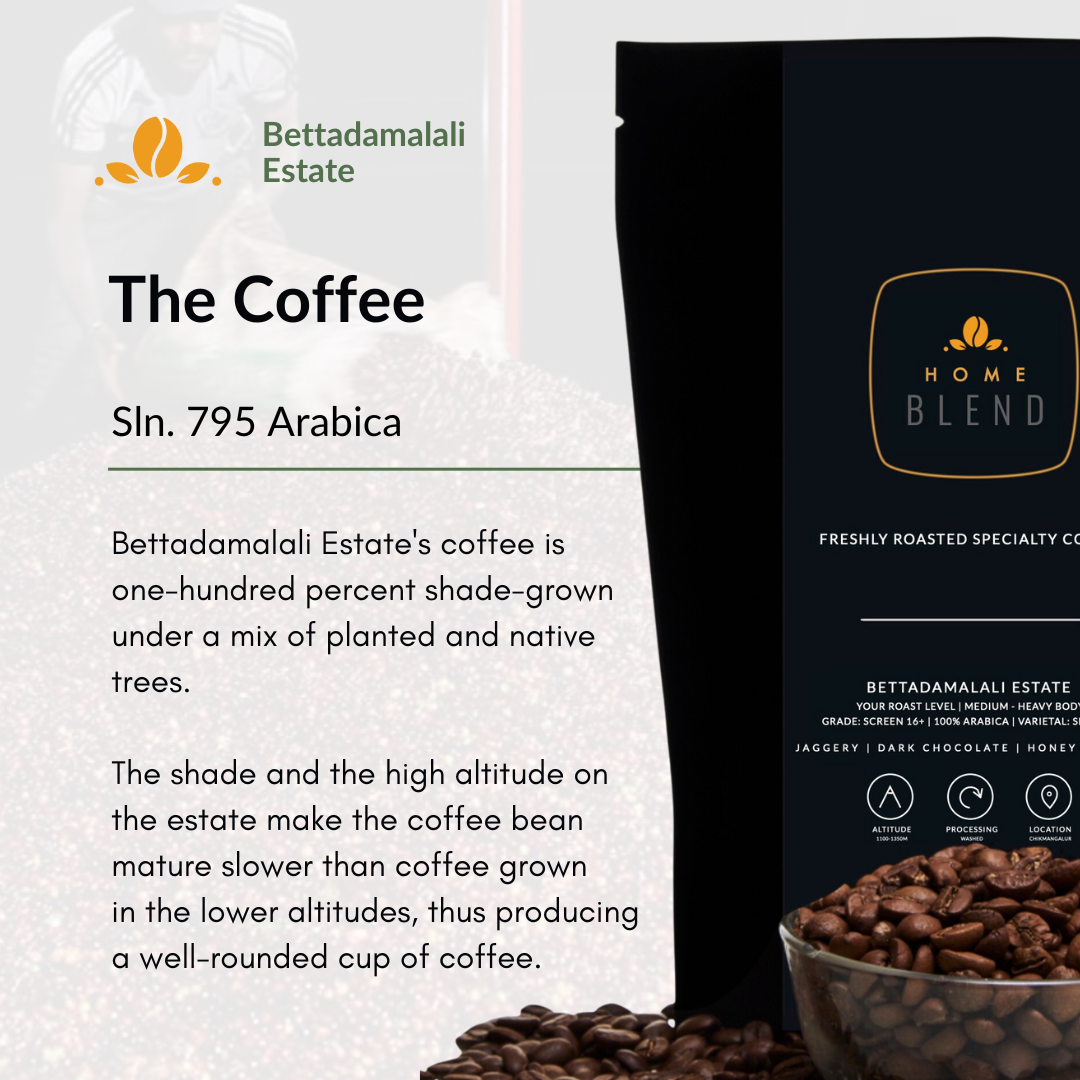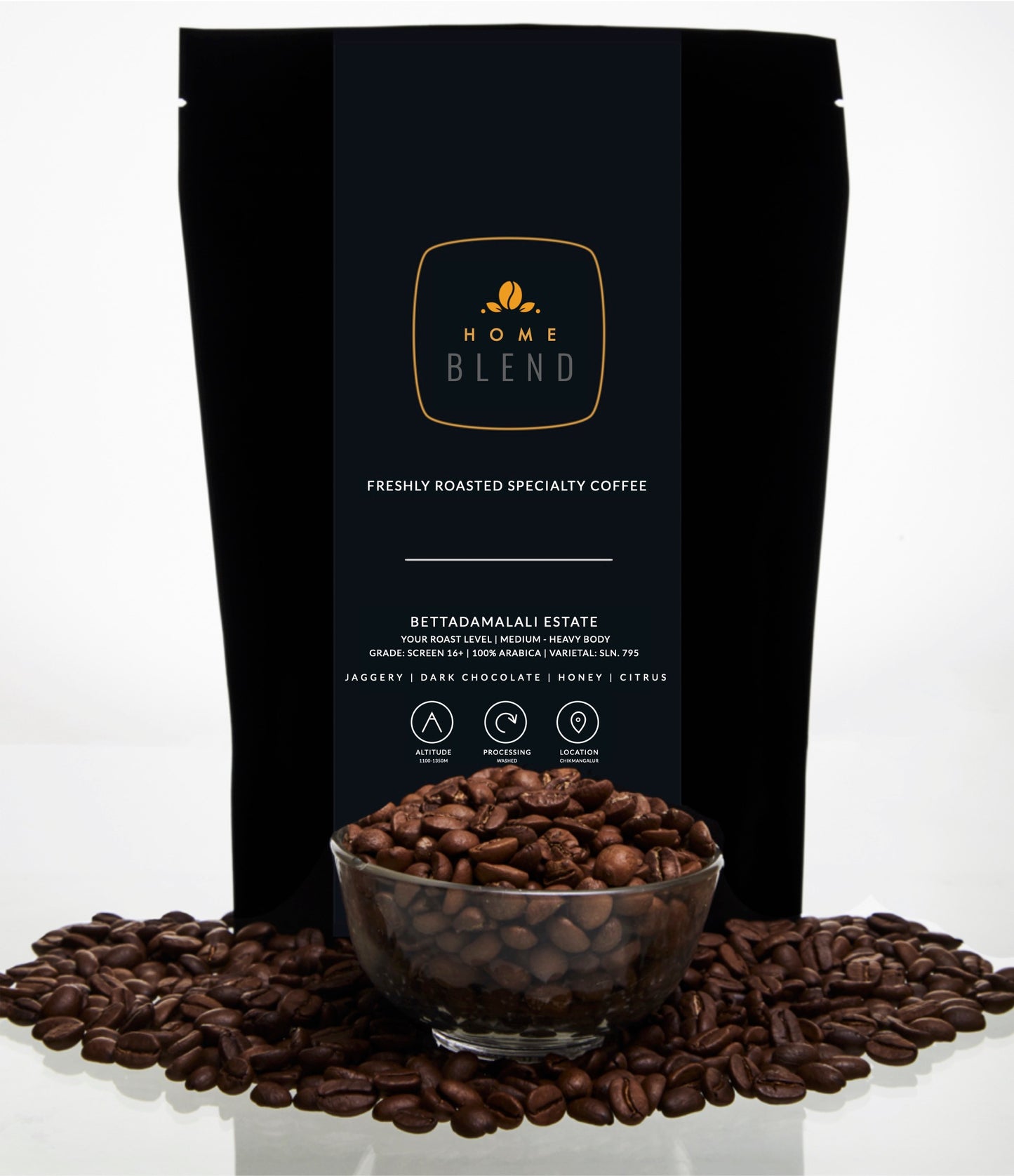 Bettadamalali Estate | Sln. 795 | Shade Grown, Hand-Picked Arabica
Experience the exquisite taste of one-hundred percent shade-grown coffee, cultivated under a harmonious blend of both planted and native trees. The unique combination of shade and high altitude nurtures the coffee beans, resulting in a slower maturation process compared to beans grown in lower altitudes. This deliberate pace of growth yields a harmoniously balanced and flavourful cup of coffee that truly stands out
Your Specialty Pick: Bettadamalali Estate
Variant: Sln. 795 Arabica
Roast Level: Your Pick 
Grind Size: Whole Beans 
Tasting Notes: Jaggery, Dark Chocolate, Honey, Citrus Finish | Body: Medium - Heavy

Nestled in the breathtaking hills and valleys of the Sahyadri range, the coffee benefits from the richness of volcanic soil, pure water sources, invigoratingly crisp air, and meticulous care from the land's stewards.
The commitment to quality extends to the hand-picking of each individual coffee cherry at the estate that ensures only perfectly ripe, crimson-red cherries are selected, guaranteeing a pure and untainted coffee experience.
Discover Freshly Roasted World Specialty Coffee At Your Doorstep
Premium Specialty Green Beans

• Green Bean Processing & Curing at Established Mills that pay farmers a high premium for export grades, ensures and stamps all our Specialty Grade
• We use only the most premium, export quality AAA & Specialty Grade Arabica beans to roast our coffee fresh everyday!

Freshly Roasted


• All our coffee is Roasted Fresh at our roastery! 
• All our coffee Profiles are roasted on Software to ensure Consistency 
• Each Batch is Cupped before packaging 

Specialty Coffee Association Certified

• Home Blend Coffee Roasters is an Offshoot of the company's Coffee Curing Dry Mill in Indonesia

• We understand that Great Coffee requires Elaborate Equipment and Processing Methods to Grade, Size, Sort Defect-Free Specialty Coffee

• Before we Integrated Vertically, we got Certified in Green Bean, Roasting, Brewing, Barista & Sensory by Specialty Coffee Association (SCA)

• All our Roasters are Qualified and Certified by SCA